15 Alternatives to Virtual Events
"Quick! Let's put our event online!" Now you get to research platforms, analyze costs, train the presenters to be on screen… go! But what if your content didn't have to be an event? This is your time to get creative with your content. To experiment and explore fun new ways to share your content. The old playbook has gone out the window; no longer can you just throw a field event, launch a webinar, or sponsor a booth. And maybe, just maybe, you don't have to put your content on a screen at all. As companies look to deliver content virtually, there are many ways to go beyond a traditional webcast or PowerPoint. In a sea of virtual noise, here are 15 ways to break the mold:
Talk Show Format Live or Recorded Broadcast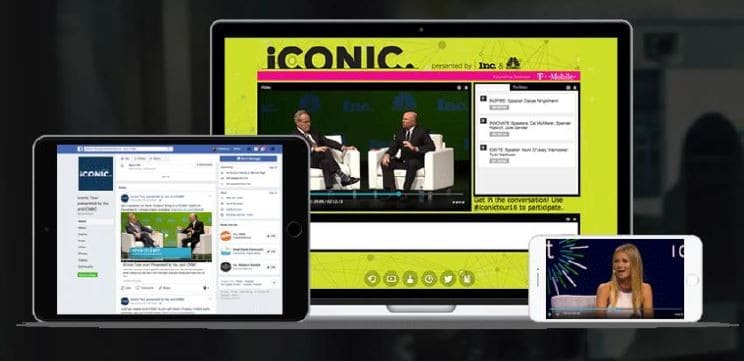 Create a TV studio feel with a news desk or broadcast format that engages the audience by optimizing the viewing experience. When it's safe to be in-person again, consider using this format to invite small groups of customers for a live studio audience followed by dinner and drinks. Feels like a virtual event? Well, yeah – but I thought I'd ease you into the more boundary-pushing ideas.
Get Interactive
So if you're picking the screen for your experience, then shake up a static experience by integrating learning games and trivia. You can use this for the broadcast format suggested above, or build it into more traditional video conferences. Whether during a livestream, a Zoom meeting, or any other gathering, making the event interactive will help your audience stay attentive and have fun. Check out Kahoot.
Choose Your Own Adventure
Interactive video is a great way to put participants in the driver seat. Create a choose-your-own-adventure format so they can customize the experience and engage with the most relevant content. In the images here, the guy at the top is asking if you want him to go to the museum or downtown. When you click, the video jumps to the chapter with him in that location. The image at the bottom is someone making pastries. You pick the toppings and the video changes to show you that pastry with those toppings that you chose! If you don't have access to filming equipment, consider using animation paired with voice overs. Either way, your audience will have a useful tool to digest information in their own way, in their own time. Check out dot.vu
Podcasts
Cater to on-the-go lifestyles with a custom podcast series that can deliver content in quick bursts while listeners are out for a walk or doing laundry or making the kids lunch. From interviews, to facts and figures, to customer stories, to sales kicker testimonials, podcasts might be a great delivery method for busy participants.
Meet The Avatars
For a fun and unique training experience, record your subject matter experts giving a short content pitch and convert them to augmented reality, activated via a QR code. Your avatars could invite viewers to a more in-depth training or online events, or share all of the content they need right there in a virtual world of your making. Or make a bingo card with lots of QR codes and mail them to your participants. Bonus: you'll get all the viewing metrics so you know what was watched!
Custom Video Games
Engage a vendor like Game Learn that has video game shells ready for you to share your content in an interactive, competitive way. This format is great for skills pertaining to leadership, negotiation, or time management, within a fun format that allows for natural storytelling. People can then advance at their own pace, using rankings and challenges to increase motivation and participation. Game Learn says they have a 94% course completion rate, compared with an average 25% completion rate with regular eLearning platforms.
Game Show
Still desperate for a show on screen? Turn your content into a game show for an enjoyable and educational experience. Whether it's an old classic like Family Feud or a quiz show like Jeopardy, your audience will have fun rooting for their favorite contestant, and you can add in ask-the-audience options to make them part of the show. Much like idea #1, you can also film this with a small live studio audience, once we're all permitted to get out and about again, or you can run it webinar-style with contestants as "panelists" and the audience able to help out in the chat.
Interactive Movie
Similar to creating a talk show, you may also consider a live action movie format. If you have an unlimited production budget, create a landscape of decision points for participants to navigate through the story as if they're Ethan Hunt. No stunts required. Check out Verse. Obviously, it may be tough to film a full-length movie during a time of shelter in place, but consider making it a CGI or animated movie with the same interactive intent. P.S. if you have this kind of budget to spend… call me! I don't know what I'll do with it, but I'll figure something out.
Video Email Course
Taking it back to the easy, low-barrier-to-entry digital campaign, consider creating a five-day video-based email campaign with embedded 45-second video clips per day, and an invitation to register for a longer, 45-minute or one-hour webinar for more in-depth information. This is low-hanging fruit that you should probably just go ahead an implement. It doesn't have to be overly complicated, and it gives recipients the power of choice to opt in to each of the modules that are most relevant to them, or receive the content in an organized flow over a planned timeline.
Webcast Series
Taking a page from the "Comedians in Cars getting Coffee" or "Hot Ones" shows, you can engage your audience with interviews that are ridiculous and fun, and keeps them coming back for more. Using the "Hot Ones" example, it's a celebrity interview format where the interviewee eats a progressively hotter wing with each question. You can adapt this model to your own preference, putting a fun spin on an otherwise boring Q&A.
Mail A Gift
Blend an audience's online world with something offline to make their experience better. Whether it's something that goes along with a virtual event like a pre-event swag box, or just a nice arts and craft kit for them to do with the kids, or even a pack of toilet paper (too soon?), people love getting mail, and they'll love a gift that will elevate your content in a fun, maybe even humorous, way. Custom design the box and the gift to go with a campaign or some specific content. Send an "outdoors kit" with a frisbee and a jump rope (branded, maybe?). Send something fun and goofy like a Uniquarn!
Revitalize Print
Never before have we needed paper so badly. Eye strain is real. Communicating in print is a welcome respite, so now is the time to spin up that magazine you've always wanted to create. Or what about a pop-up book? Or a catalog? Even a newsletter or a fun full-sized newspaper fold-out. Ooh! What about a POSTER!? SO many ideas!
Break Time
Everyone needs a break, so instead of monopolizing another hour of their eyeballs, invite them to an hour-long webcast, but then get your content across in 10 minutes, and then let your audience take the remaining time to step away. Their calendar is likely fully booked, and now they can do something they struggle budgeting time for, like take a walk. They'll remember you for it.
Host a Remote Haute Dokimazo
Rather than preaching content one-to-many style, consider creating a peer-to-peer environment that is participant-driven. Attendees determine the discussion via a crowdsourcing exercise to uncover what topics are meaningful and important to them, and then facilitate the conversations. This way, a true community can form in breakout sessions, even online. Learn more about Haute Dokimazo.
Start A Book Club
Within your community, designate a topic of interest, and develop a full program where you send them a book (or audio book or e-book) and set-up book club calls or video conferences to discuss and share. You'll engage your community and create new reasons to connect regularly and new connections formed around a shared experience. Just send the book, or create an entire experience that goes with your new community.
How will you engage?
These are just a few thought starters to get your wheels turning. We have endless fun coming up with ideas like these and helping people reach their audience in a meaningful way. Need our help to execute? Our sister company, Haute Rock Creative, can handle pretty much everything in this post and more. And of course, if you still want to host your virtual event but want to add real engagement to it, that's what Haute Dokimazo does. Just wanna brainstorm? We love doing that, too! Drop me a line.
Liz Lathan, CMP is co-founder and CEO of Haute Dokimazo, a "spontaneous think tank" company that empowers participants to solve their business challenges. Haute Dokimazo is part of Haute Companies, a family of companies anchored in human connection, from events to media (podcasts, videos, and more) to direct mail to swag to entertainment talent management to strategy session facilitation.