.
Gamification at Corporate Events and Trade Shows are a Must for Engagement
Gamification during corporate events is starting to pick up steam with new ways to drive interaction at conferences and trade shows. With the inundation of smartphones and apps, you can find many ways to get your attendees involved during your events.
Whether you are looking to prompt engagement between attendees or gain more foot-traffic to your expo hall, the strategies are endless.
We've listed 10 ways our clients use the SCANTrivia gamification platform to drive event networking below.
1. SCANTrivia Networking Event Badges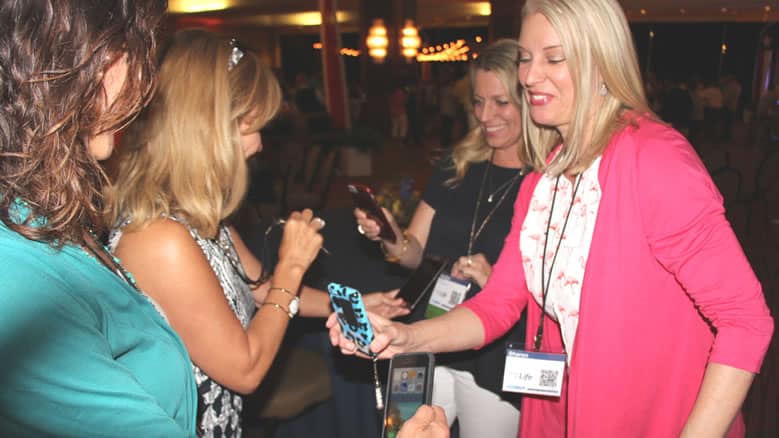 Use trivia as a way for your attendees to interact with each other. SCANTrivia Networking Badges allow attendees to scan each other's badges and guess the correct answer to their personal trivia question. They'll level up as points are earned and can even see their place on the leaderboard within the app or any web-enabled monitor.
ADD GAMIFICATION TO YOUR EVENT
2. 2 Truths and a Lie Networking Event Badges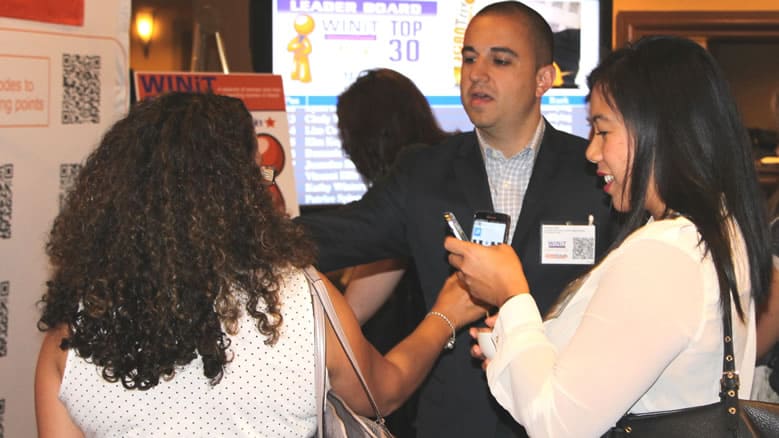 2 Truths and a Lie is the ultimate icebreaker game when it comes to events. We've made it a little more high-tech by allowing users to interact with each other through their smartphones. 2 Truths and a Lie Networking Badges will prompt your attendees or event guest to circulate throughout the room to earn points as they meet new people or learn more about others they already knew.
2 Truths and a Lie is perfect for events when you have staff coming together from various parts of the country or world for a conference. Often staff gravitate toward people they already know or worse, they stick to themselves. 2 Truths and a Lie prompts your staff members to engage with each other in a fun non-intrusive way.  You'll be amazed by the interaction!
Our gamification platform also works well with many popular native event applications. See how NXT NRF integrated our 2 Truths and a Lie platform seamlessly into their app for their conference.
ADD GAMIFICATION TO YOUR EVENT
3. SCANMatch Networking Event Badges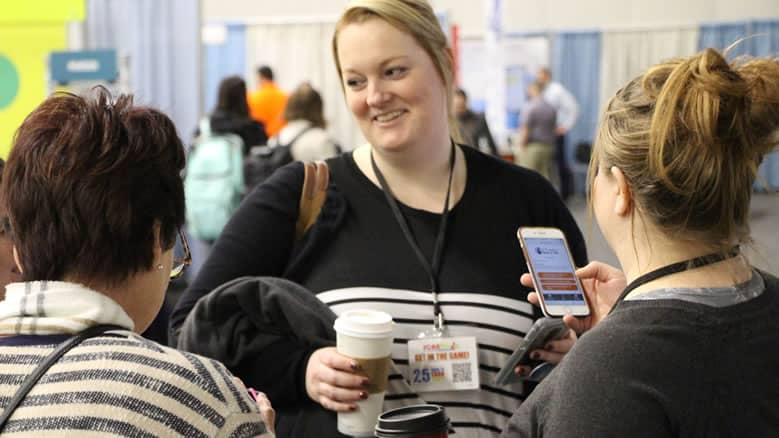 If you like seek-and-match games that require you to have a good memory in order to earn points then you'll love SCANMatch. This unique game involves looking for attendees with the same match as yours to earn points. The cool part is that you come up with the matching elements.
Our clients have used animals (selected based on personality traits), numbers, zodiac signs, drink types and even company core values. It's completely up to what you feel will be appropriate and fun for your event.
ADD GAMIFICATION TO YOUR EVENT
See the Networking Badges in Action Below

4. Buckeye Football Themed Custom Event Badges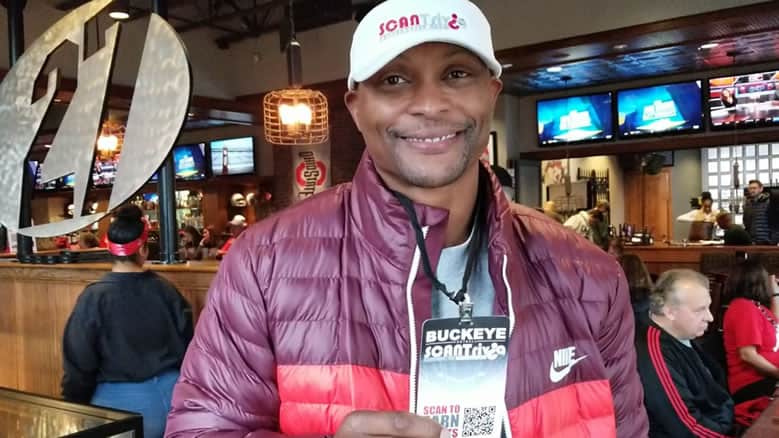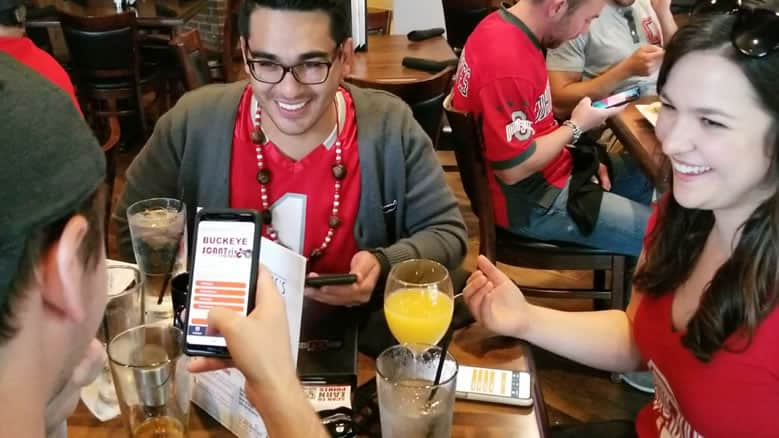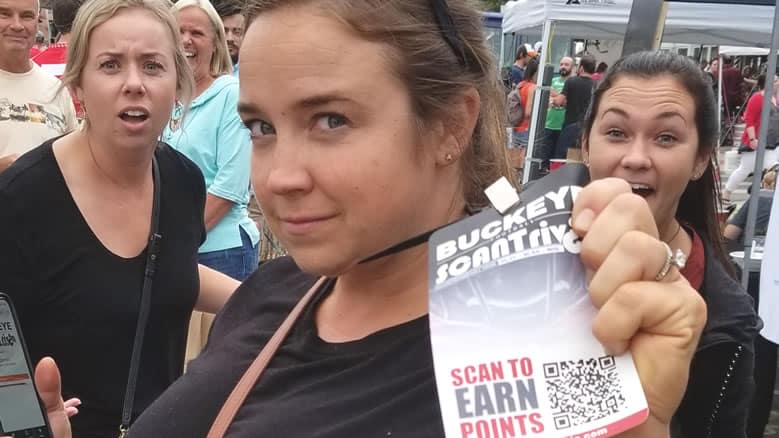 The latest addition to the Networking Badges is our Buckeye Themed Badges. Each badge is loaded with a unique Buckeye Football trivia question ready to be scanned and answered. It's an easy way to get your guests into the game and interacting while testing their trivia skills about the Buckeyes.
Try the Buckeye Badges or if you have another theme in mind we would be happy to load your questions to any amount of badges you need for your event.
Check out the promo for Eddie George's Grille to promote the SCANTrivia Game-day
5. Interactive Game Wall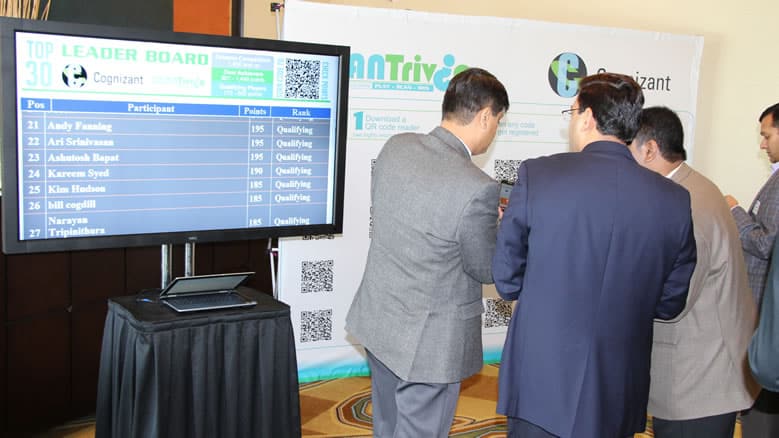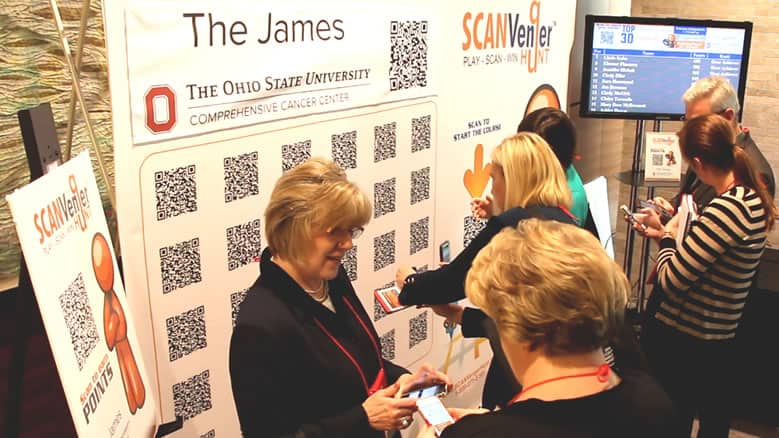 The Interactive Game Wall is the perfect place for attendees to come together and answer trivia questions in cooperation with each other. Attendees often gather at the Interactive Game Wall after registration or in between workshops.
The Interactive Game Wall can be used to reinforce content for your sales team or create more awareness about your sponsor(s).
ADD GAMIFICATION TO YOUR EVENT
6. SCANTrivia Exhibitor Passport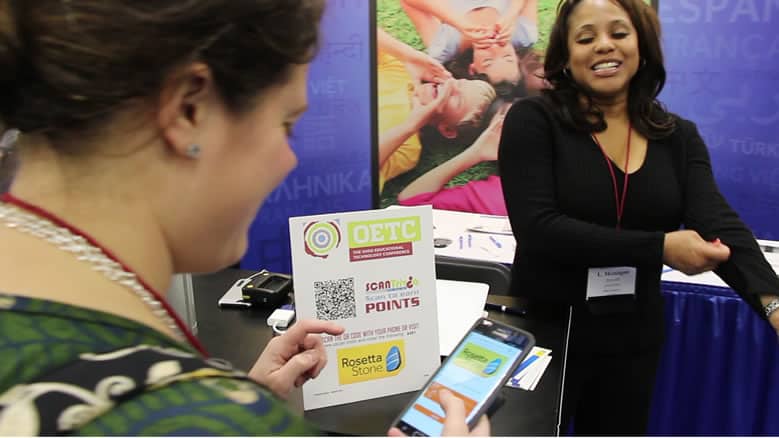 If you have exhibitors at your event then you'll be looking for ways to get the attendees into the expo hall. The SCANTrivia Exhibitor Passport is all you need. Your attendees will know exactly which booth to find to earn additional points.
With each scan, the attendees will be challenged to answer a question that encourages them to interact for the answer.
Exhibitors can opt-in for SCANTrivia contacts of each attendee that visited their booth. SCANTrivia is a true gamification platform for exhibitors that drives engagement like no other.
The SCANTrivia passport program can be integrated into most popular native apps. Checkout how ISTH integrated the SCANTrvia passport program into their event app.
ADD GAMIFICATION TO YOUR EVENT

7. SCANTrivia Workshop Check-ins and CE Credits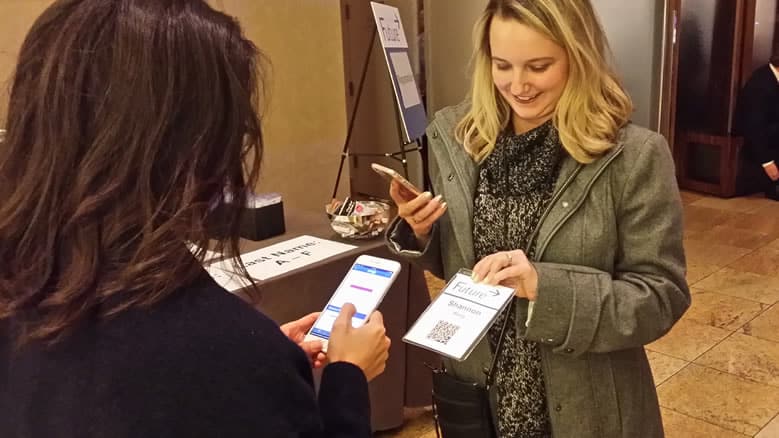 Need to track attendees for CE Credits? Why not gamify the process? Use the SCANTrivia platform to not only track credits but also give them points on the leaderboard. You can also give the attendees special perks based on their game level position.
ADD GAMIFICATION TO YOUR EVENT
8. Interactive Sponsor Engagement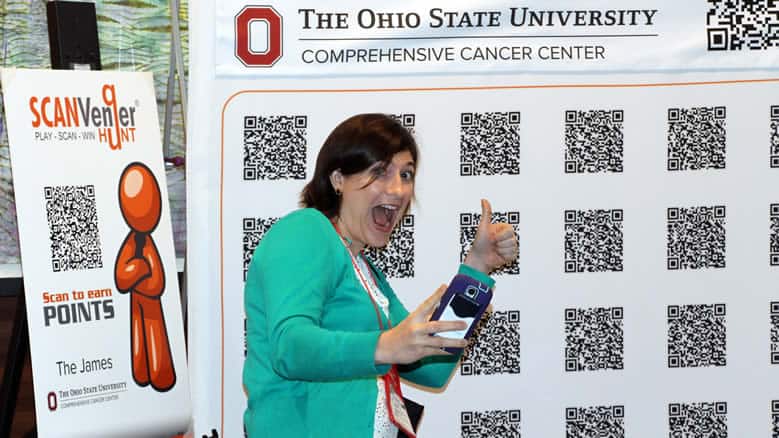 Make sure your sponsor gain more than just eyeballs. SCANTrivia offers several ways for your sponsor to track their ROI base on Hyper-Concentrated Interactions (HCI). With our multi-scan posters, the Interactive Game Wall or Networking Badges you can create additional real estate for sponsors.
Partner with SCANVenger Hunt and add these options to your next prospectus and begin off-setting costs for your next event.
ADD GAMIFICATION TO YOUR EVENT
9. SCANTrivia Interactive Gear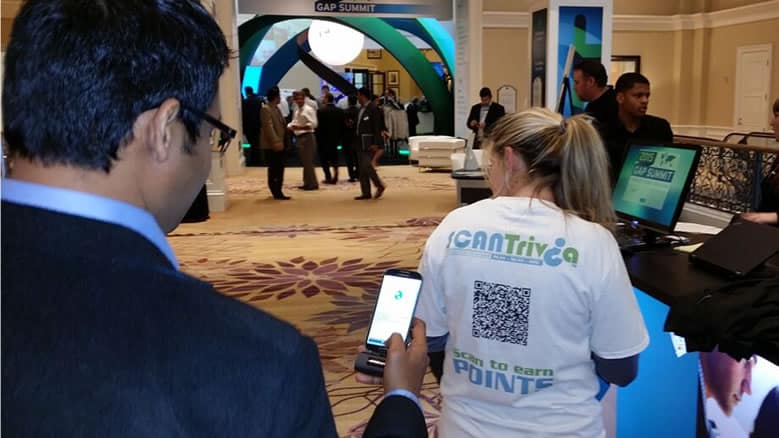 It's the coolest way to get your staff involved in the game. Attendees get to meet the staff indirectly during the event by finding them and scanning the back of their shirts. Questions can be related to the venue or the event theme. It can serve as a great icebreaker for volunteers as they interact with the attendees or C-level executives who want to engage more with their staff.
ADD GAMIFICATION TO YOUR EVENT
10. SCANTrivia Floor Clings
Add SCANTrivia to your floor clings and create another touch-point. Include your gamification sponsor's logo along with a SCANTrivia question and increase the Hyper Concentrated Interaction for their brand. Since the date is aggregated your sponsor will be happy to see the proof on their ROI.
ADD GAMIFICATION TO YOUR EVENT