Event Icebreaker Ideas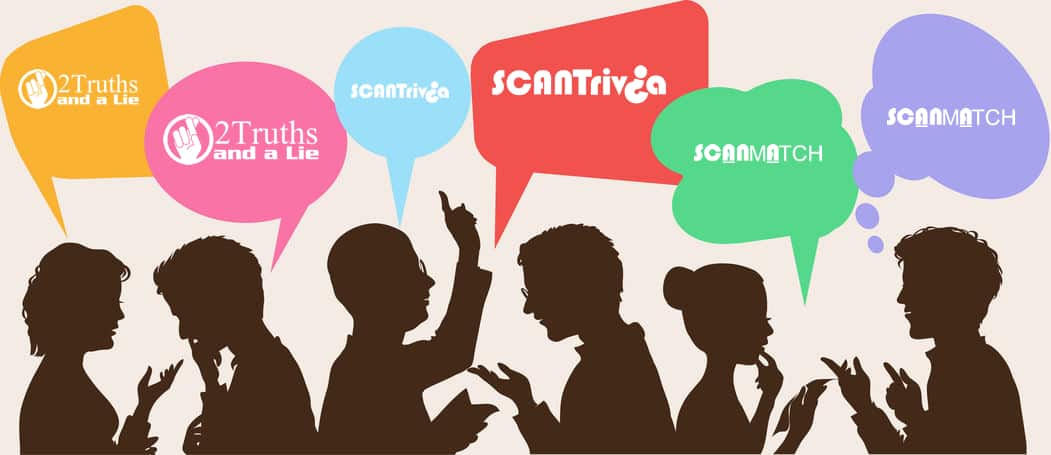 Event Icebreaker Ideas
Providing icebreaker ideas for your event is our focus and expertise. The flexibility of of our gamification platforms have set it apart from others when it comes to meeting the desires of our client's event objectives.
Whether the focus is to increase the impressions of their sponsor's brand through hyper-concentrated dwell time or driving traffic to locations in the exhibit, we have a solution.
Each one of our gamification solutions function as a separate component that's available as an option when you license the SCANTrivia platform. Our team kept the end users in mind from all stakeholder vantage points in order to ensure optimum interaction throughout the experience.
Developing processes that encourages early participation with incentivized  hook-and-go game mechanics produces the type of interaction among participants that's sure to take your event to new heights.
Interactive Networking Badges
Attendee-to-Attendee Networking Solution
SCANTrivia Interactive Networking Badges serves as the perfect icebreaker for your attendees to network and learn more about one another. Adding more value than the traditional name badges, SCANTrivia Interactive Name Badges allow users to scan and either make a connection and/or answer a trivia question to learn more about them. Learn more>
Interactive Game Wall
Attendee-to-Sponsor Engagement Solution
The Interactive Game Wall (IGW) always seems to be the big hit at every conference or trade show for driving sponsor engagement and attendee interaction.
Learn more>
Interactive Networking Badges