How Event Planners Are Using SCANTrivia for Attendee and Exhibitor Engagement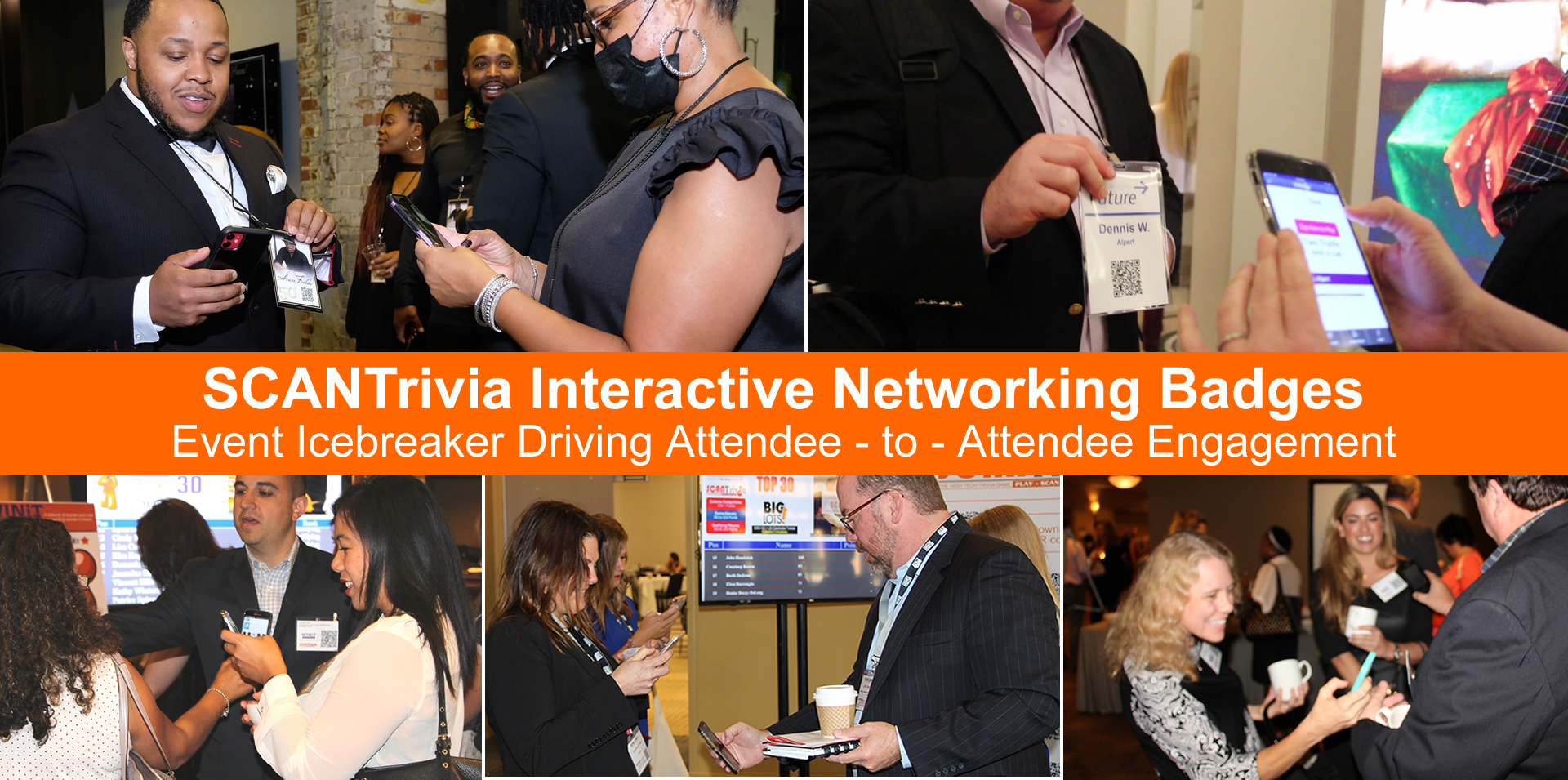 Whether it's in a face-to-face or digital event, every event planner aims for not just attendee and exhibitor sign-ups but also engagement between these participants. But event planners know that achieving high engagement rates and other event KPIs is a tall order and that they need a helping hand.
Cue: SCANTrivia
What is SCANTrivia?
SCANTrivia provides gamification solutions for company events and trade shows. Their products, such as the SCANvenger and SCANtrivia platforms, offer a different and interesting twist to events that will boost engagement for both attendees and exhibitors.
Where you can use SCANTrivia
Conferences or expos
Employee events like team buildings or sales rallies
Alumni events
Product launches
Grand opening of retail malls or hotels
The above are just some types of corporate events where you can use SCANTrivia, but really, you can use it for just about any event. It can be internal company events, client-facing ones, company career fairs, and more!
5 SCANTrivia Benefits
1. Increased attendee-to-attendee interaction
Networking is a key reason why attendees go to these events. Whether it's a business owner looking for potential partners or employees engaging with co-workers they do not work with on a regular basis, attendee-to-attendee interaction is a must for a successful event. Event planners who want to see an increase in this type of interaction should choose one of SCANTrivia's many solutions.
2. Drive attendee-to-exhibitor engagement & increase booth traffic
Exhibitors spend weeks, maybe even months, planning their involvement in conferences. It's only right for them to expect that they will be able to engage with attendees or potential clients during these events. SCANTrivia can help map out virtual solutions to help drive attendee-to-exhibitor engagement that may turn into a valuable partnership in the future.
3. Lead generation
With the help of modern technology, SCANTrivia has made it easy to collect information and necessary consent that event planners and companies can use as leads. These are valuable leads that can potentially lead to revenues for the company or its exhibitors.
4. Drive team building & employee engagement
SCANTrivia does not only cater to B2B or B2C events; it can also work for employee events! Whether it's to strengthen the team bond or drive employee engagement, SCANTrivia can craft solutions to help the HR team's event planners create a successful employee event.
5. An overall memorable experience
A lot of attendees and exhibitors come to events mostly for education and networking purposes. But we believe that they can do both, plus have a fun and engaging time as well! Creating a memorable and fruitful experience for everyone is a display of the event planner's capabilities, how well they understand the event's objectives, and what they can do to achieve these goals. So expect that for your next event, attendees and exhibitors alike will reach out to you to join.
SCANTrivia solutions that help boost engagement
Event Icebreakers
There are two main types of icebreakers that can increase attendee-to-attendee engagement.
For a more conservative engagement approach, event planners can opt to use the standard SCANTrivia platform, where attendees can create trivia questions about themselves. These can either be multiple choice, true or false, or fill in the blank type questions. Activities like these give attendees a simple conversation starter.
For high-energy engagement: To create even more buzz and excitement for events, planners can use the 2 Truths and a Lie platform. This ultimate ice breaker is a fun way to get attendees to talk to each other and can potentially lead to more valuable conversations with individuals who share the same energy.
To get started, all attendees have to do is scan the SCANTrivia QR code during the event to claim their badge and join the icebreaker activities.
Customized gamification of event activities
Whether you want to increase booth traffic or increase interactions, SCANTrivia will help you achieve those goals. Event planners can share their event objectives with SCANTrivia and they will bust out the best strategy that will fit your event needs. Maybe it will be a SCANVenger Hunt City Tour to ensure that attendees visit each important part of the conference booth or a custom interactive game wall to educate and engage with attendees at the same time.
Zoom Virtual Trivia
Zoom has experienced a meteoric rise during the past couple of years, making it a relevant platform for event planners who want to create a virtual event. This is why SCANTrivia developed Zoom Trivia for Virtual Events. This way, attendees can still enjoy the fun engagement programs and network with like-minded people in the comfort of their own home!
Hybrid Engagement Badges
Want to hold a conference but also assure attendees that safety protocols are in place? Make the most out of modern technology with SCANTrivia's hybrid engagement badges. You can ensure that attendees still interact with each other. The hybrid engagement badges are a contactless way to network, get leads, and engage in interesting conversation.
The above solutions are just the tip of the iceberg. SCANTrivia, equipped with knowledge of successful past projects and modern solutions, will give your event the boost it needs. Contact SCANTrivia today to learn more about how you can put up your best and most engaging event yet!